Thursday, October 06 2016
Sanding is always a tedious task! Thinking scratched hands & broken nails... Not any more!
Recently I was given a sanding glove. It looks kind of odd & I thought this looks crazy. How will this work? Well I was eating my own words! These gloves are the best. They are so easy to use, the get into all the nice curves of the funirture & are a breeze on spindles!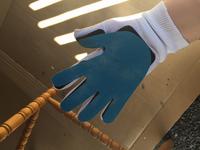 The sanding pads attach to the sandi hands glove. I prefer the cotton glove because it's breathable. The pads come in a variety of grits and have made sanding furniture so much easier.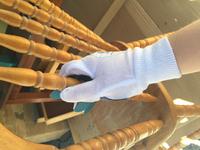 Find the gloves online at www.graftonpaintandcolour.com.au
#sandihands #sanding
Wednesday, September 07 2016
What is with #stencilling… you either love it or you hate it. Some people love the personalisation & others find it out of place. I think the right graphic / shape can really work well to personalise your piece of upcycled furniture. However, today I am writing about how I use stencilling to clear out all my left over paints.
What I have found lately is that I have all these tiny amounts of left over fusion mineral paint in the bottom on the tubs. It was literally about 10-20mils in each. So rather than the usual kitty litter clean up (yes that's a thing) I decided to get my stencils out and stencil a few cotton reusable bags I found at spotlight.
Stenciling is easy & a really quick project. So all you need is the following
Paint
Sponge
Bag – Something to stencil on to
Stencil
Tape
Plate
Cardboard (insert inside the bag or under the surface)
If you're wondering what kind of sponge I use it's just a basic make up sponge you can buy just about anywhere. I find these work the best for me. Everyone is different so find what works best for you. You might like to use a stencilling brush.

Once you have all your tools you're ready to go!
Tape your stencil down using a good tape. I use painters tape because that's just what we have in our store that we use for everything. I find the blue painters 14 day tape the best. Always tape the stencil down. If you try to free hand you will find that it will bleed if you're not steady.
Next pour out the left over paint into a plate. I use these cheap party plates that we had left over from a bbq. No need to use anything special here. Push your spinge into the paint & start dabbing onto the surface. I always use small dabs & keep it consistent. Don't overflow the sponge with paint or you will get bleed under the stencil.
That's all there is to it! Take the stencil off the surface straight away. You don't want it to dry and stick to the surface. Clean up the stencil in warm water straight away and leave to dry. You're done!
You can find some great stencils in our online store at www.graftonpaintandcolour.com.au/stencils
I used Fusion Mineral Paint in the colour Soapstone for this project.
Until next time… Happy Painting : )
#stenciling #fusionmineralpaint #soapstone